Cue Radio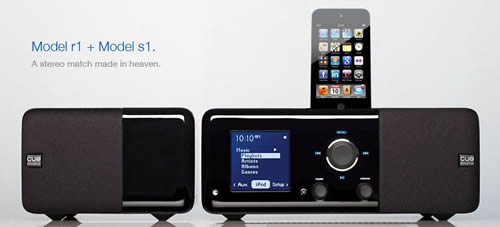 The Cue Radio Model r1 is unlike any table top or bed side radio you have ever heard. Sounds like a standard sales pitch doesn't it? Well, let us put it this way then... Our business model never intended to include retail products like the Cue Radio but, once we heard the sound coming out of this beautiful little box we instantly decided this was something we would be proud to sell. As it turns out, the Cue Radio plays nicely into our business model in several ways:
- It out performs similar products... like those Bose thingys.
- More functionality
- Great value
- Made in the USA
- Unparalleled support
- Can be integrated into a full scale home automation system
More about the Cue Radio...
The Model r1's contemporary, sophisticated design complements any decor—and its compact size allows it to fit easily on almost any table, shelf, or desk. It is available in glossy white or black (both with a glossy black front panel and removable speaker grille).

By adding the optional Cue Speaker Model s1, the r1 is transformed into a true stereo system. Since the s1 is a separate unit, you can set them apart and allow for the left and right channels to act independently. This provides a deep, immersive sound that is not possible with two speakers in a single unit.
The terms "digital" and "warm" were rarely mentioned together in the early days of digital technology. But, times have changed. The D2Audio DSP and digital amplifier in the Model r1 deliver consistently warm sound without any of the cold, sterility of the past. All the clarity with plenty of soul — what more could you ask for? And now all 100 watts of power are further unleashed to produce TWICE the volume!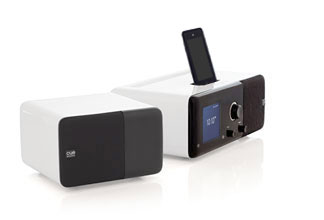 You will be amazed by the details this technology reveals. Many people hear things in their favorite songs that they never noticed before. The dynamic range is very wide and the noise floor is extremely low. You have to hear it to believe that such a full, immersive sound can emit from such a compact system.
The custom designed, handmade cs1 speaker lies at the heart of the Model r1's expansive sound. Its bi-amplified architecture features a 3.5" mid-bass driver and a 3/4" silk-dome tweeter. The cs1 driver is the result of more than two years of research, development and testing. With a free air resonance of below 75Hz (an extraordinary specification for such a small speaker), the cs1 is an amalgam of specialty materials and processes, including long grain organic fibers for the cone, glass-reinforced composite for the basket, and a ferrofluid cooling system for the tweeter. The cs1's custom high-frequency waveguide broadens sound dispersion and eliminates Doppler shift with the aid of its coincident, high excursion midrange driver. The result of these innovations and craftsmanship is one of the finest small form factor acoustic drivers in the industry. Output from this driver is exceptionally clear and dynamic and the organic fiber cone gives the cs1 a warm yet crisp sound.