Hello! We regularly make service calls to fix systems that aren't working only to find a loose HDMI connection. Traditional HDMI cables do not lock in place so, a simple movement of the AV equipment, such as adjusting the position of a TV on an articulating mount or cleaning around equipment can easily dislodge the connection.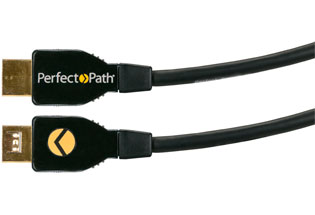 Now available at our store is this premium HDMI cable that provides a perfect connection for HD devices. The PerfectLock™ HDMI connector keeps the cable securely locked when plugged into any Type A receptacle, yet is easily disengaged with a simple pull of the connector body.
High-speed HDMI certified
PerfectLock™ connector with 25 lb retention
CL2/FT4 rated for in-wall use
Supports 3D, Deep Color, 4K, and audio return channel
Available in a variety of lengths
---
Also available at AVDomotics are custom length HDMI and analog AV cables as well as Cat5e and Cat6 network cables. Custom length color coded AV and ethernet cables dress up any equipment rack big or small. In stead of piles of looped cables, these handsome color coded cables make initial setup and trouble shooting much easier. Check them out on our online store!