Solid Drive Speakers: An Introduction

---
Solid Drive speakers are an unbelievable product. They are truly, "see it to believe it".
- Wait, don't you mean "Hear to believe it"? They are speakers after all...
Actually, you'll need most of your senses to believe what the Solid Drive speakers can do.
Here's why:
Solid Drive turns solid surfaces into speakers!
The Solid Drive SD1 is a cutting-edge, innovative, powerful sound transducer that transmits acoustical energy through almost any solid surface. The entire surface with which Solid Drive comes in contact becomes a speaker, delivering high-quality sound and the frequency response of conventional diaphragm speakers, Solid Drive works with rigid surfaces including glass, drywall, wood, ceramics, laminates composites and metal.
Because Solid Drive utilizes existing structures in the room, it is ideal for residential and commercial applications. Experience sound in ways you never thought possible. How does the SD1 Work? Solid Drive utilizes patent-pending technology with very high-powered neodymium magnets and dual symmetrically opposed motors to convert audio signals into powerful vibrations. Those vibrations are transferred into solid surfaces through direct contact. High-quality, full-range sound is then radiated from the entire surface with a frequency response of 60 Hz to 15 kHz.
Solid Drive installs directly behind walls, in ceiling, under floors and on most all other solid surfaces. The unit turns an entire structure's surface into a quality sound source while remaining completely hidden from view. The Solid Drive mounts "in-wall" and "in-ceiling" by attaching directly to the drywall with a patent-pending balanced cantilever spring bracket. The bracket spans the studs, providing strength, stability and vibration-free operation. Solid Drive delivers sound to problem areas transforming walls, ceilings, floors, windows, mirrors, counter tops, conference room tables and other furniture into high-quality sound sources. Perfect for homes, retail stores, restaurants or anywhere audio is wanted but without visible speakers.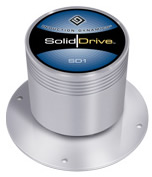 Experience the Solid Drive speaker in action in our showroom in Sedona, at the Design Center at 1 South Milton Road in Flagstaff, AZ or call us and we will bring our demo unit to you.